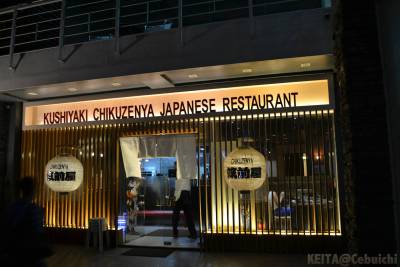 I am not really a foodie , but good-tasting food does capture my attention. A few weeks ago I had an opportunity to visit another Japanese restaurant in Mandaue, Cebu. (Thanks to our kind CEO and manager!) The name is Kushiyaki Chikuzenya. All of the dishes were great! But there were three that captivated my tastebuds the most.
MY NO. 1: GOYA CHANPURU
It is a stir-fried dish of "ampalaya" (Filipino term for "goya" or "bitter melon") and made even tastier and more appealing with pork luncheon meat (which actually tasted like Spam) and tofu. It reminds me of my mother's simple ampalaya dish, which has egg, garlic, onion and tomatoes as the other ingredients. But I must say, it's an upgraded version of my mother's dish and I definitely loved it–it had just the perfect blend for such a dish.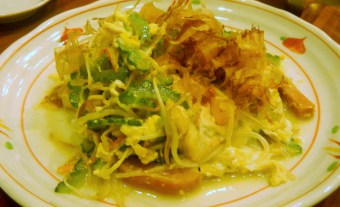 Ohhh, the delicious Goya chanpuru!
MY NO. 2: CALIFORNIA MAKI
To me, this is another food creation with an excellent mixture of ingredients. In fact, it's the best sushi I've tasted so far. It is a roll of sticky rice that envelopes the "nori," which is chopped seaweed flattened into a sheet. The "nori" also envelopes crab sticks and pieces of mango and cucumber (instead of avocado). The roll is finally topped with "masago," which are tiny fish eggs (with the fish name, "capelin," according to my research). The whole thing was sweet and yet complimented with the mild saltiness of the masago. It's quite a unique dish because you can eat both fruit and meat without feeling icky about them getting mixed. I've researched that you have to pair it with soy sauce, but the dish alone was already satisfying. It's a perfect, healthy snack!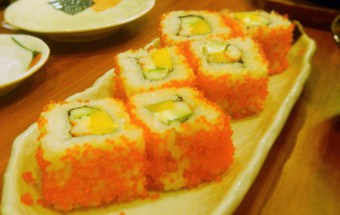 California Maki–a unique, tasty blend!
MY NO. 3: KUSHIKATSU
This is a deep-fried dish on a skewer, resembling barbecue. It is deepened with batter and inside it contained onion (most likely the sweet one), vegetables and meat. It is then seasoned with mayonnaise. Actually, it reminds me of a New Yorker, a deep-fried bread roll containing bacon strips (ham or corned beef are also alternatives) and lots of cheese; and then, it's coated with bread crumbs. The combination of meat and cheese was what made New Yorker delicious. But Kushikatsu also added some vegetables (and onion!) and it didn't even taste any inferior to New Yorker. It was just as great, but even greater if you consider its healthy aspect!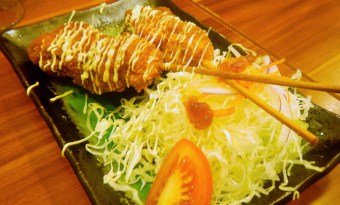 The appealing Kushikatsu–a healthy one!
All in all, it was a great experience to have tasted Japanese food–often healthy and delicious!