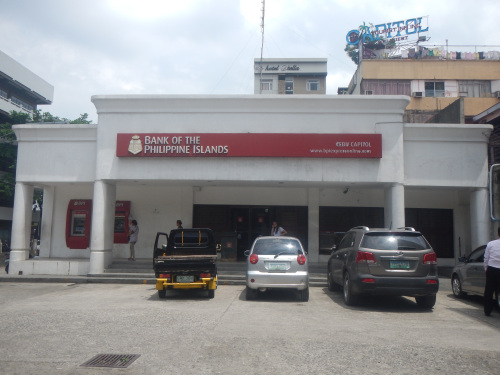 "How do you open a bank account in the Philippines?" Although different banks may have slight (or some) variations in their procedures, I'll give you an overview of how it's done through my experience in one of Cebu's BPI branches.
ABOUT BPI
BPI, or Bank of the Philippine Islands, is the very first bank ever to operate in the Philippines and in Southeast Asia. Founded in 1851, it started "Philippine banking and finance industry" and had the former name, "El Banco Español Filipino de Isabel II." Now, it has 800 branches in the Philippines, Hong Kong and Europe.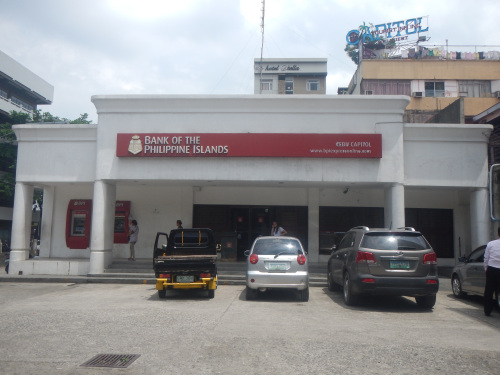 BPI Capitol Branch
To make a bank account, I headed to the nearest BPI branch–the Capitol branch. As its name implies, it is near to the Cebu Provincial Office housed by the historical Capitol building.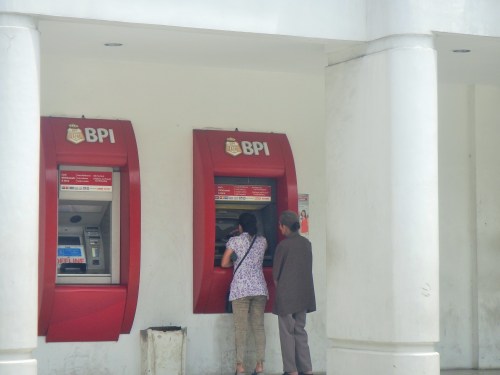 These are ATM Stations outside the bank.
So how did I open a bank account in BPI?
STEP 1. ACCOMPLISH A SET OF REQUIREMENTS.
I personally visited the bank to ask for a list of requirements. A kind personnel from the Customer Service counter gave me a paper containing the complete list. Here's a gist of the requirements listed:
Three (3) pieces of (1×1) ID picture
Other banks ask for a 2×2 picture instead.
Proof of billing address; that is, one's billing statement.
Common examples are utility bills such as VECO (electricity provider of Cebu) bill and MCWD (water provider of Cebu) bill.
Any 1 Valid Photo-bearing ID.
Examples are passport, driver's license, Alien Certification of Registration/Immigrant Certificate of Registration and other Philippine government-issued IDs such as SSS (Social Security System) ID, Senior Citizen ID and PRC (Philippine Regulatory Commission) ID.
TIN (Taxpayer's Identification Number)
School ID and study load (for students)
Important Note: Both original and photocopy of the above-mentioned documents are to be submitted; however, only the photocopies will be kept by the bank.
BPI has a specific list of IDs they accept. Should someone have problems with the IDs, the person will be referred to an officer in charge who will willingly help out.
STEP 2. CHOOSE YOUR ACCOUNT AND FILL UP A SET OF FORMS.
When I returned to the bank to submit my requirements, I was asked which type of account I would like to make. Since I wanted a savings account, I had two options: passbook savings account and ATM savings account. I find withdrawing from an ATM station more convenient for me, so I chose the latter. Afterwards, I was given two more options for the ATM Savings Account: zero maintaining balance (with a 5php charge upon every ATM withdrawal) or 3,000php maintaining balance. In my case, having the latter would be better, so I opted for it.
After that, the personnel gave me a set of forms to fill up.
Important Note: BPI charges 300php every month when the required balance is not maintained.
STEP 3. DEPOSIT MONEY.
The personnel then asked for the money I wished to deposit. Later, I was given a Deposit Slip to fill up. At the end of the transaction, I was given a duplicate of the slip, serving as my receipt or proof of the amount I deposited.
STEP 4. CLAIM YOUR ATM CARD AND RECONFIGURE THE ATM PIN.
I could claim my card after 5 banking days. Since I didn't have much know-how as to what to do next, the personnel instructed me to go to the yellow ATM machine to reconfigure the ATM pin. To do that, one has to type in the original ATM pin first and then change it to the desired pin.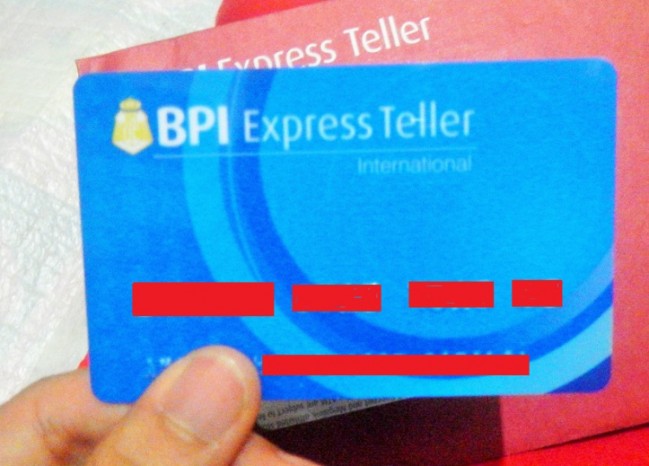 This is my ATM Savings Account Card!
The whole process probably took about 20-30 minutes. But it could be lesser if the bank isn't loaded with customers (and if you write fast!).