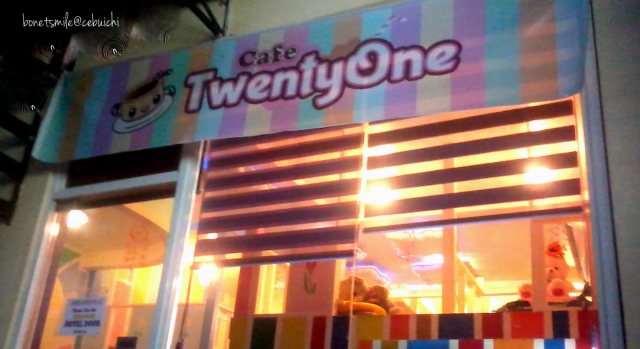 Chill out and relax under a roof of sweet colors while tasting some sugary goodies at a cool and cozy cafe that suits to your bonding moments with your loved ones. A place where you can be with someone special in your heart and no one can destroy the moment while sipping some delicious blends.
Cafe Twenty One: Cool and cozy cafe in Mactan Island
Once in a while my besties and I would always find time to relax and reminisce our precious days in high school by just sitting down and talk in such a place where we can be free and no so much noise and crowd bothering our time to be together. We usually hung out somewhere near our place, and one of the best cafes we tried was at the Cafe TwentyOne. This is the cutest cafe in Mactan Island because of its comfortable atmosphere and lovely colors inside. It is situated at the foot bridge (known as 2nd bridge) near Marcelo Fernan Bridge, Pusok Road (Quezon National Hi-way) Lapu-Lapu City. Open daily from 8:00 AM to 12:00 AM.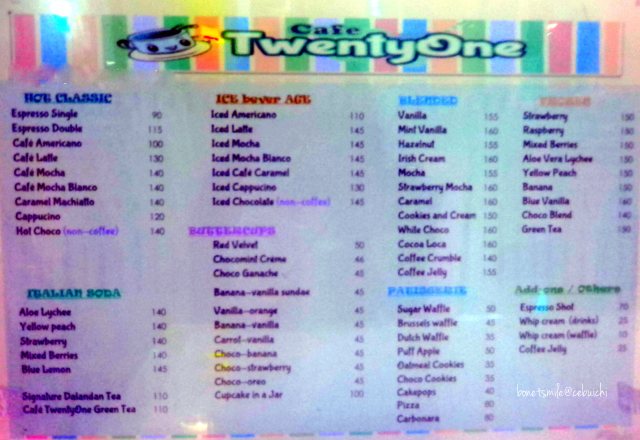 Sweet taste of pastries and drinks @ Cafe TwentyOne
As we got inside the cafe, I found some yummy cupcakes displayed on the counter and drinks were freshly made right after we ordered. They served as quick as a lightning (ehehehe) And if you are sweet tooth like us, this place suits for you. They offer affordable freshly baked butter cupcakes, blended sweets, pancakes and many more. Cafe lovers love the taste stated on the menu, for sure.
Diner's Feeling: The comfy ambiance
For more than two years from now when the owner started to venture a cafe like this, the cool and cozy atmospheric feeling touches every diner to sit down and relax or even have time to refresh out from the heat of the sun in the city. In such a way that the place is full of lovely-cute stuffed toys and sweet candy-liked colors painted on the wall. Plus, staffs are very friendly and accommodating to every customer. This cafe is divided into different compartments where you can stay and have your own privacy with your company.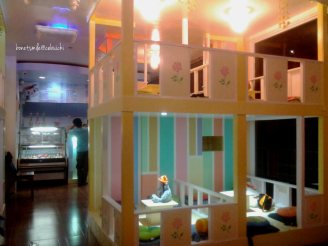 A-must Visit!
The moment was unforgettable for me as I chowed down at this cool and cozy cafe where I can be with my besties and sipped my favorite blended drink. If you are a person who loves to stay in a place where you can spend much time with friends by just plainly talking with some good stuff, well… this place is best for you. So you must visit… See you there!!!
Until next time,
Bonetsmile ♥