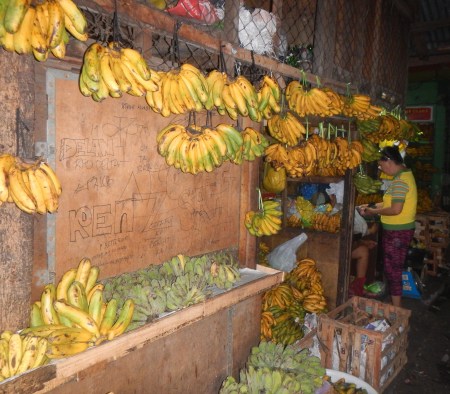 "Bababaaa-ba-ba-nana…." If minions (from the movie, Despicable Me) sing about bananas, humans eat them! Cebu not only has a variety of mangoes, it also has different kinds of bananas! In Cebu, you will come across different names of banana. Probably, the three most prominent bananas in Cebu are "Lakatan," "Latundan," and "Cardaba."
BANANAS IN THE PHILIPPINES
In the Philippines, bananas are available all year round as they are non-seasonal fruits. Due to their abundance and nutrients such as fiber and potassium, it has been a common act to eat banana every after meal among Filipinos to aid digestion.
Generally, Filipinos call bananas as "saging" (sa-ging).
LAKATAN
"Lakatan" is probably the most popular type of banana in the Philippines. It dominates the banana varieties available in the supermarket and is typically the favorite dessert at a party or at home.
The ripe "lakatan" has a golden yellow peel and a pulp that's light yellow to orange in color. Some may not have a flawless peel, with presence of physical markings; nevertheless, the pulp can still have the same quality. Its taste is (very) sweet and can be very aromatic when ripe.

LATUNDAN
This kind, also known as "apple banana," is common to the locals, who just refer to it as "tundan" (tun-dan). It is generally smaller compared to "lakatan." Its peel, which is thinner than the 'lakatan," can be plain yellow or covered with small black spots. The pulp is often pale yellow or white. It is generally sweet but can be mildly acidic. At times, it can be a little starchy, too.
It is also used as a dessert, an alternative to "lakatan."

CARDABA
Also known as "Saba banana," it is stubby and has a bright or dark yellow peel, while the pulp is white like "latundan." The taste is sweet and starchy.
It is the banana that is more commonly cooked than eaten raw. It is cooked to make one of the usual "merienda" (a Spanish term that means "afternoon snack") of Cebuanos–bananacue. Aside from bananacue, cardaba bananas are also the source of banana chips, banana cakes, banana native delicacies such as "nilusak" (or Pounded Banana) and an ingredient in Cebuano dishes, especially "binignit," which is the no-meat dish eaten by Cebuanos during the Christian observance of Holy Week.
Also, this type of banana can be eaten raw when still unripe. In this way, it is often dipped in "ginamos" or plain shrimp paste mixed with "lemoncito" (a.k.a. calamansi) and tomatoes.
If you haven't tried any of these bananas, I recommend you do so. Try it on your visit to Cebu!