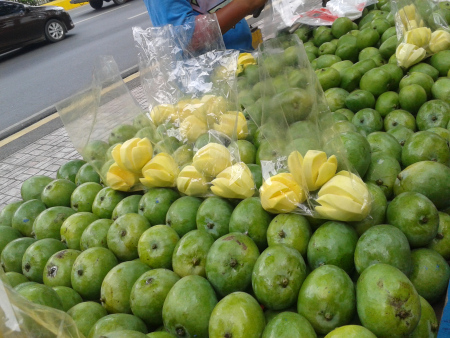 The Philippines is widely known for its yellow mangoes. The famous variety of mango in the country, Zambales' Carabao mango (dubbed as "Manila Super Mango"), is considered to be the sweetest variety in the world, as confirmed by the Guinness Book of World Records. However, this is just one among many varieties in the Philippines. On the streets of Cebu, you will find other kinds of mangoes. Let's see what these are!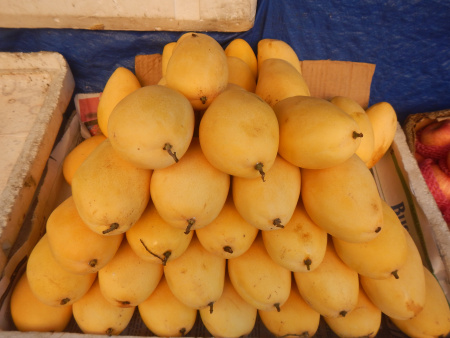 The luscious pride of Cebu!
INDIAN MANGO
It is small in size and has a dark green skin. You may think this is still unripe, but it is actually already ripe on the inside! It tastes sweet but can be sometimes slightly sour. The flesh is hard (but easy to bite) and crunchy, unlike the very soft yellow mango. (You can wait for the flesh to ripen even more and the skin color will still remain the same. However, I recommend you eat it when it's still firm.) It's a perfect healthy snack you can grab along while roaming the streets of Cebu.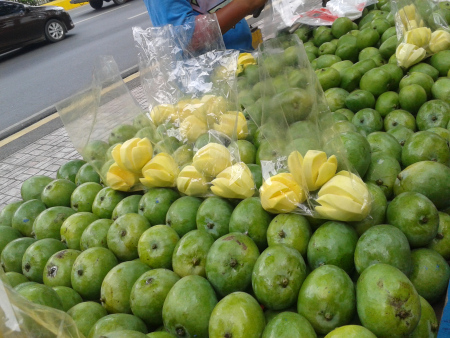 Indian Mangoes
(The mangoes in this picture are sold by three's; each pack is sold at 10php-20php–depending on the size.)
When sold on the streets, Indian mangoes can be priced for as low as 5php each. Some are sold at 10php. But when you go to Carbon (Cebu City's largest farmer's market) the smallest ones can start at a price of 1php!
APPLE MANGO
This has been a recent street commodity although it has been existing on Philippine soil for a long time (I remember one at the backyard of my uncle.) It's another sweet variety and it is distinguished from all other kinds of mangoes existing in Cebu by the green-and-red color of its skin. It has also the same hard, crunchy flesh as the Indian mango. But it can also be eaten when already soft.


Apple Mangoes
The price starts at 10php each.
GREEN MANGO
For those who like eating sour food, this is for you. Because of their sourness, they are often eaten with "bagoong" or shrimp paste. But they aren't totally sour, they can have a tinge of sweetness. These green mangoes are usually of the Carabao variety. They are quite big and because of that, they are sold in retail for 20php or 25php.


Green Carabao Mangoes
These mangoes are a local favorite. I, personally, love all three. They are not only nutritious, but they also exhibit distinctive tastes I keep looking for. Why not try it during your visit in Cebu?