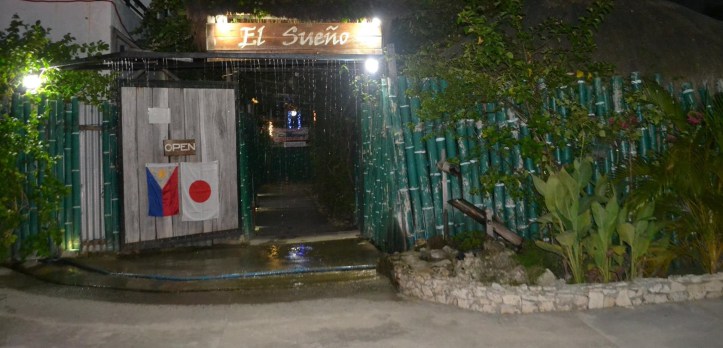 It was my very first time to hear of such a restaurant as El Sueño–a Japanese-owned restaurant that serves Filipino food. What?! Why?! I definitely wanted to know. So, when I found out that I would be given an opportunity to visit this place, I got excited.
Explore what's beyond this interesting welcome! (On the right, you'll see common Philippine plants, like the herb banana. Above the entrance are spurts of water forming something like a curtain. The left side shows why this place is unique–a blend of Japanese and Philippine culture.)
ABOUT EL SUEÑO RESORT & RESTAURANT
El Sueño is a brainchild of its Japanese owner, Mr. Susumo Ueno. It has always been his dream to set up and design his own restaurant wherein he himself would be the chef. Finally, in 2013 that dream became a reality and that is the restaurant you now see along the road of Saac, Mactan in Lapu-lapu City. In fact, the Spanish words that compose the restaurant's name, "El Sueño," means "The Dream." (Actually, he wanted to use the English equivalent, but he found out it was already used by another establishment; so, he researched until he stumbled upon those Spanish words.) And here's what's more interesting: his family name, "Ueno" is actually a part of "Sueño" (without regard to the "ñ"). It looked as if it was meant for him–his name inscribed into the name of his restaurant that represents the fulfillment of his long-awaited dream!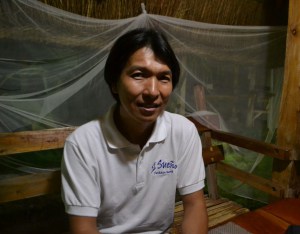 Mr. Susumo Ueno–Japanese owner and innovator of El Sueño
THE FOOD–UNUSUAL YET DEFINITELY WORTH A TRY!
Together with the main menu, the accommodating waitresses handed in a separate menu featuring the restaurant's three Filipino food bestsellers, but take note–these are Japanese versions. What's common in Japanese food? They are not so oily, not so salty and not often spicy. And my Japanese friends who accompanied me could attest to that after they tasted two of the three bestsellers we ordered: Sizzling Sisig and Pochero.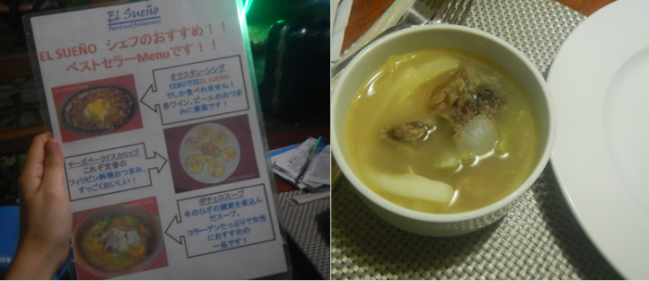 Left: The Bestseller Menu in Japanese (for my Japanese friends!); Right: My bowl of Pochero
If I were to decide the best between the two, it would be sisig! The meat is not pork but ox, actually ox's tongue! (It's a wild creation of Mr. Ueno; he said no other restaurant had ever served that sort of sisig.) I am not in the habit of eating tongue meat but when I had my spoonful, it didn't taste anything unusual; rather it just had an overall terrific taste! You should try it. By the way, it's a little spicy as it's topped with siling espada (Long Pepper or Spanish Pepper), adding mild spiciness to the dish.
sisig


Left: The attending waitress is mixing the smoky, sizzling sisig with a fresh egg; Right: Ox Sisig is ready!
What about the drinks? We also tried their specialty–Moringa shake! Another "what?" Yes, if you guessed it's the scientific genus name for horseradish tree or malunggay (or kamunggay), you're right. Dubbed as the Miracle Tree, Moringa oleifera has a very high nutritional value and has been used as herbal medicine for decades. Imagine the health benefits coupled with your drink in a restaurant! I have never seen a restaurant having it on its menu before. I bet it's another result of Mr. Ueno's innovative side.
shake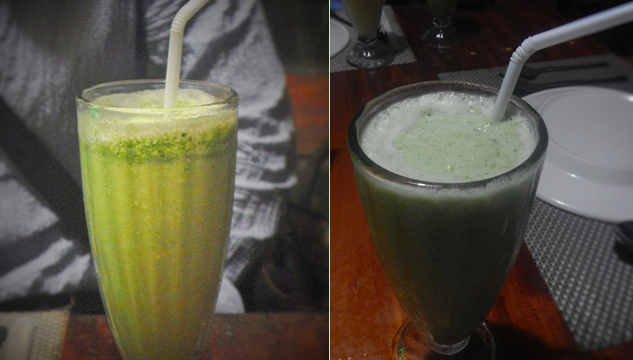 Left: Original Moringa shake; Right: Moringa shake with banana (Actually, there's not much difference in the color; only that the right one is a little paler due to the mixture. The dark green bits you see are blended Moringa leaves.)
But what made Mr. Ueno make such addition to the menu? I believe it has something to do with the Japanese being health-conscious. Thus, he probably thought it would be to the Japanese customers' liking. (After all, he's Japanese!) But if one's not into drinking something herby, the original Moringa shake may not be suitable to that person's taste. So, Mr. Ueno also prepared a mixture of Moringa shake with banana or mango. I had the former mixture and when you compare it to the original, it actually tastes better–sweet yet with the herby, tangy taste reduced. (Original Moringa shake is also sweet but really herby in taste.)
Oh well, I haven't shared everything yet, but this article has gotten long. So, I'll see you on my next post!