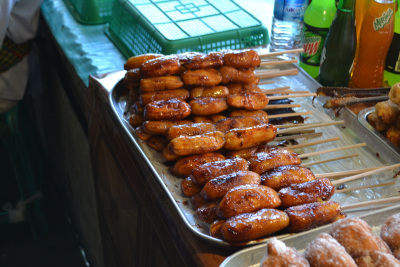 BBQ or barbeques are small chunks of grilled meat on stick, while bananaques and camoteques are skewered caramelized bananas and sweet potatoes! It's Philippines' own version.
If barbeques are viands that usually pair with rice, these are two common "meriendas" of Filipinos eaten during an afternoon break from work or between classes. "Merienda" means "afternoon snack," a word and practice inherited from the Spaniards. In Cebu, you will usually find them cooked and/or sold by small vendors or carinderias (or small eateries) on the streets.
BANANACUE
Commonly, you will see one bananacue consisting of two medium-sized or three small-sized bananas on a stick. The kind of bananas used are the "cardaba" or "saba" bananas, which is the sort usually used in cooking because of its capability to withstand intense heat without getting destroyed, especially in deep-fried cooking. Besides that, the taste of cooked cardaba bananas is perfectly matched to that of the caramelized brown sugar.
The caramelized brown-sugar coating gives a much sweeter taste to the semi-ripe banana. Nearly-ripe cardaba bananas are used instead of the ripe ones because they don't stick to the pan. In addition, the ripe cardaba bananas tend to be sweeter, which will result to excessive sweetness of the bananaque. Yet, sometimes, you will also find these sweeter ones sold among the others, waiting for the sweet-toothed buyer. They are distinguished by appearing squashy and less stiff.
CAMOTECUE
If you want something that's starchy and sweet, you can try camoteque! "Camote" or "kamote" is the Filipino word for "sweet potato." Just like bananaque, a camoteque consists of two or three deep-fried caramelized slices of sweet potatoes. Although camoteques are caramelized in as much amount as bananaques, some vendors sell them with less sugar. Nevertheless, sweet crunchiness is one of its delicious aspects to look for.
These meriendas have been a common part of the diet of many Filipinos and these are what they would usually look forward to munch in the afternoon. Why not try a bite yourself and see if it agrees with your tastebuds, too?