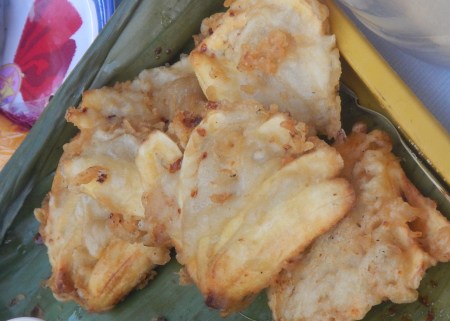 Bananaques and camoteques are not the only meriendas of Filipinos; there are turon and pinaypay, too! Although they can be skewered, they have a form wholly different from the former two. Moreover, both have cardaba or saba banana as the main ingredient.
TURON
Turon or "lumpiang saging" (banana lumpia or banana rolls) consists of two to three slices of banana placed side by side with a slice of "nangka" (jackfruit), all rolled into one. (The number of jackfruit slices can vary, but they are commonly fewer than the banana slices.) Its wrapping, known as "lumpia wrapper," is similar to that used to make spring rolls. To complete, a dash of brown sugar is added to the bananas (before wrapping) and sprinkled on the wrapper (after rolling). The rolls finished are then deep-fried for a few minutes. After cooking, a few vendors dab the cooked turon with white sugar while others leave it as it is.
They are usually sold singularly, but they can be sold by two's on stick. The price can range from 5php to 15php, depending on the size.
PINAYPAY
Here's something interesting. In Luzon region, this snack is called "maruya" but in Cebu (or Mindanao and Visayas regions), it is called "pinaypay." "Pinaypay" comes from the word "paypay," which means "fan." This is not referring to the electric fan; rather, it points to the fashionable hand fan that ladies often bring to give themselves a quick cooling on a hot day. Having said that, you may have already gotten the picture that this next merienda is shaped like a fan. That's right!
The banana is sliced lengthwise three to four times without slicing through the tip. After that, the slices are spread out to form a fan. The fan-shaped banana is either directly deep-fried or dipped in batter first before frying. Either way, they end up being dabbed with white sugar after being cooked.
Each pinaypay is sold starting from 5php to 10php, again, depending on the size.
These are two more meriendas (sometimes sold along with bananaque and camoteque) you might like to try as you stroll along the streets of Cebu.