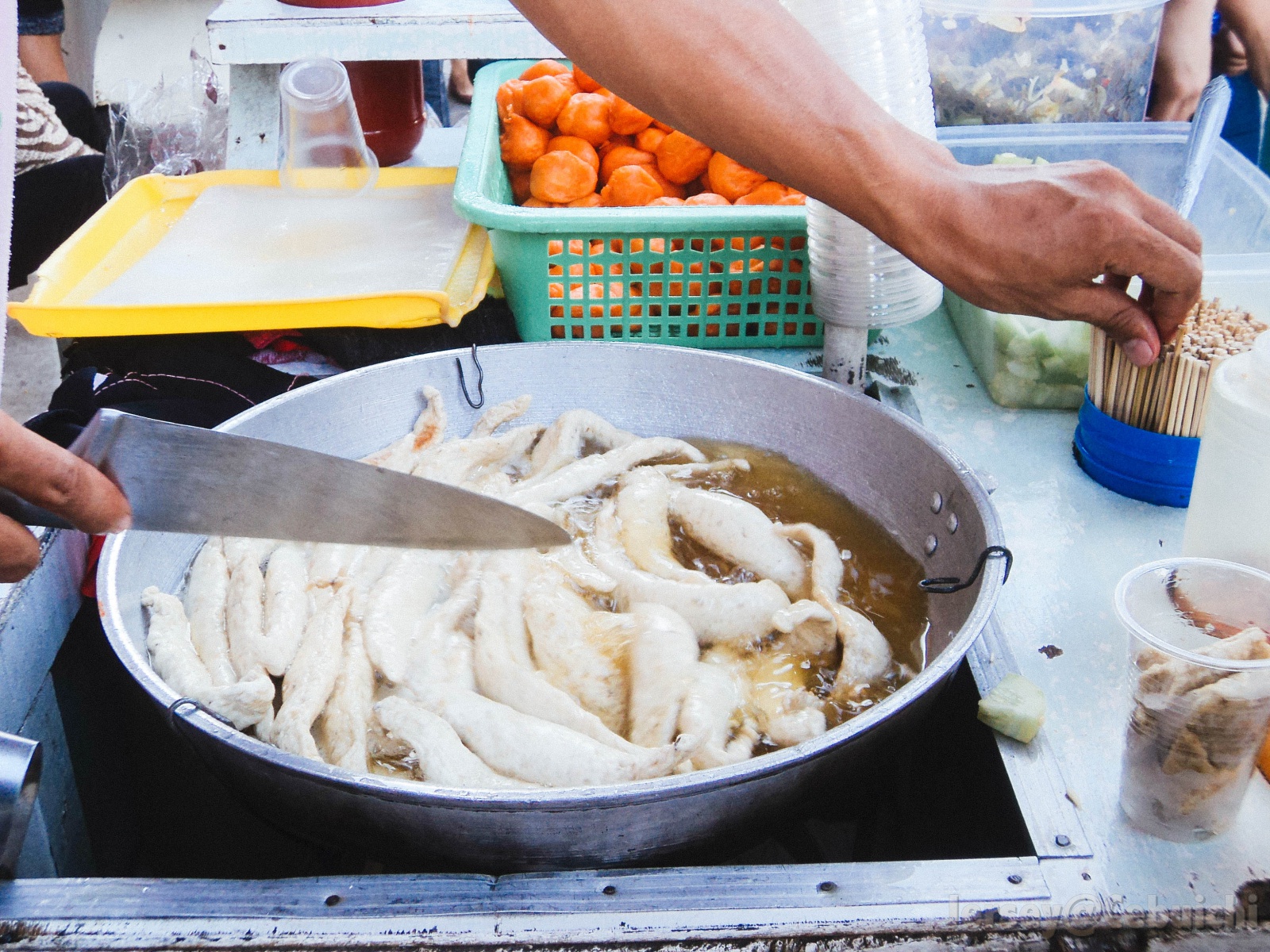 They're everywhere: from stalls in malls to carts around almost every block. Just find a bunch of people poking their barbecue sticks on a plastic cup, soaking thisthing in sauce, and lifting it to their mouths to eat. Then, see them smile in satisfaction.

Cebu's Street Foods
They say that street food is hailed to be the reflection of a city's culture. In Cebu, street food stalls start their businesses at around 2:00 PM, when people, especially workers, are on break from their jobs.
Arguably tied in the rank of most famous street food in Cebu are the classic tempura, fishball, and kwek-kwek. Sold at only PhP 10 for three pieces, they come with a side dish of cucumber, and it's up to the customer on how the sauce should be served.
Tempura and fishball has almost the same recipe, and has been on the market for generations, while kwek-kwek has been introduced later. Such as how Filipinos love to repeat syllables for nicknames, kwek-kwek wasn't able to escape its name baptism.

Kwek-kwek is a boiled quail egg, enveloped in bright orange batter, giving it its vibrant appeal. Like tempura and fishball, it is deep-fried until the little circles become crispy. They say that this snack is best served with vinegar, but others dip it onto sweet sauce as well.
Since most stalls are jammed with people, it is expected for you to voice out the orders, and make sure that the vendor has recognized it. If not, then you may find yourself waiting for the served orders that could have been yours, but are immediately snatched by other customers.
Not too long ago, these snacks were served in sticks, and then dipped in a huge bottle of sauce. This is not the most hygienic way of eating as others tend to dip their sticks more than once. It is a good thing now that these are served in plastic cups. This gives the customers the flexibility to mix the sauces and the peace of mind of not having to dip in the communal sauce.
So, if you pass by these street food carts, why not try ordering one and do what the locals do? Put some cucumbers, mix the sauce, and then pierce the food slices using the barbecue sticks. And if you're up for a second round, you're very welcome.
Experience Cebu's Culture from its vibrant street foods!