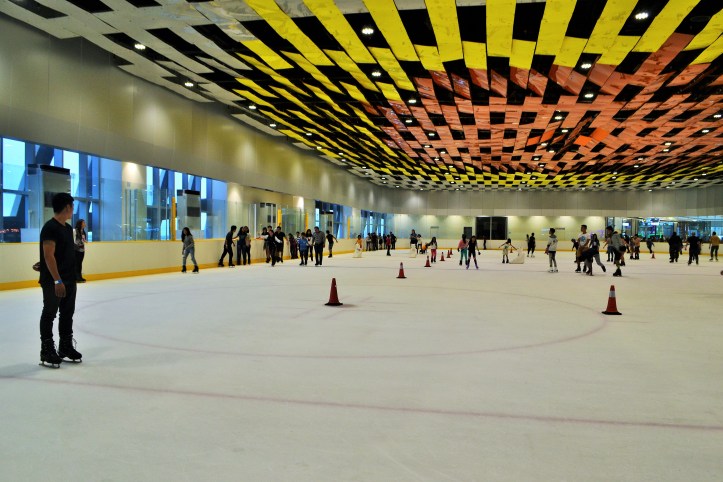 The ice, falls, bumps, and friends–all made ice-skating a great experience. And that opportunity wouldn't have been possible if not for SM Seaside City's ice-skating rink. Who would have thought of having ice in such a tropical country? Well, SM did.

SM SEASIDE CITY: THE THIRD LARGEST MALL!
Opened recently on November 27, 2015, SM Seaside City emerged as the biggest mall in Cebu and the third largest in the Philippines, with a total gross floor area of 430,000 square meters. Such space can accommodate more than 400 tenants and 5,000 parking lots, and features its major attractions: eight movie houses, Olympic-sized skating rink and the soon-to-be-completed, Seaside Tower and Sky Park.
It's located on the South Road Properties (SRP) of Cebu, a set of prime properties on reclaimed land along the east coast of Cebu City.
THE OLYMPIC-SIZED RINK: FOR BOTH AMATEURS AND ATHLETES
Although it has already been preceded by ice rinks in SM Southmall, SM Mall of Asia, and SM Megamall in Luzon, it is the only existing rink in Cebu today. It measures 30 x 60 meters and has an ice surface of 1,800 square meters.
Not only is it a fun activity away from the heat of the sun, but it'll soon be the gateway to discovering future ice-athletes in Cebu. According to their website, SM Skating will be having ice shows and competitions to invite and engage aspiring figure skaters, hockey players, and speed skaters in the country. They're on the lookout for the next Michael Martinez, the first figure skater from the Philippines who got to compete in the Olympic winter games.
ICE-SKATING HOURS: A MUST TO REMEMBER
So, whether you're in for some fun or ice lessons, you can visit the rink in SM Seaside City on its top floor during mall hours: 10AM to 9PM. Just remember though, the rink may be closed for a 30-minute break at these times of the day: 2:00PM-2:30PM, 4:30PM to 5:00PM, and 7:00PM to 7:30PM. Either a skater will perform, or the Zamboni will do an ice resurfacing.
Another thing to keep in mind is the long line that might surprise you in the afternoon. (We had to wait for more than 30 minutes for our turn!) So, if you can't wait long before you get to glide on ice, better be there in the morning hours.
For details on the fees at the time we visited the rink and other important information, please head to my next post. See you!