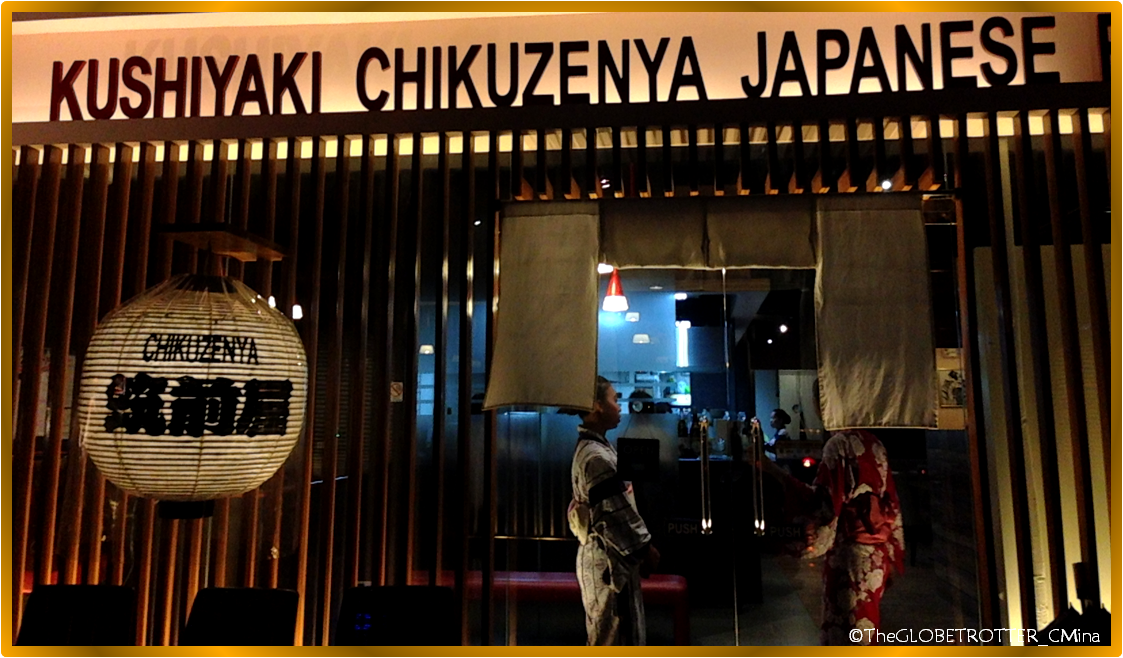 This wasn't the first time that I have experience eating in a Japanese Restaurant, but my experience in Kushiyaki Chikuzenya was the first time that all the food I ate was Japanese Food. It was far more different than my experiences from other Japanese Restaurants.

I went to Chikuzenya together with my colleagues, our manager and our boss. I didn't actually expect that I'll be having fun and that I'd go home with my stomach full, because honestly I don't really get full when I eat food that I'm not used to eating.
IT'S TIME TO EAT!
On our way to the restaurant, my colleague, Lyn, instructed me that we have to choose at least the top three of the food that we love the most and write about it. I really took that as a challenge to myself and to my tastebuds, because I know that there is only a little chance that I'm actually going to love Japanese cuisine or in fact any other cuisine far from what I have been exposed to. But at the end of the night, I realized that there are some Japanese foods that I possibly would love. So to start, let me share from the third food in my list to the first.
TOP THREE: CHICKEN NAN-BAN AGE
Chicken Nan-Ban Age is a marinated deep fried chicken with tartar sauce. It's the third on my list because I like its taste. It somehow reminded me of a fish fillet with a sauce, though in this case it was chicken.
TOP TWO: OKINAWA SOBA
Okinawa Soba is thick noodles served in a pork soup. It is the third in my list because I love the salty taste of the soup. In my opinion the Japanese pork tastes like a fish, it was very soft and very tender to chew. Here in Cebu, pork, most of the times, is not that soft and tender when cooked and served. This food also reminded me of our own version of salty soup with thick noodles, lomi.
TOP ONE: HAKATA TEPPAN GYOZA
Hakata Teppan Gyoza is pork dumplings on a hot plate. It's the first in my list because I really loved it! The taste, the tenderness of the pork and I just loved gyoza. Though the sauce wasn't spicy, it reminded me of a siomai, a Chinese style of pork dumplings which is also a very famous viand here in Cebu.

Of course, my meal wouldn't be complete without a dessert. If there is such thing as 'TOP ZERO' then, my 'TOP ZERO' would be the Chocolate Parfait. It's a chocolate dessert, obviously from its name and I love chocolates. I'm more than a chocolate lover; I am a Choco-Monster!



So to sum up my Kushiyaki Chikuzenya Experience, I'd say two thumbs up! The ambiance of the restaurant and the friendly staffs dressed in Kimono, it was all great. If you're looking for a Japanese Restaurant here in Cebu, then, Kushiyaki Chikuzenya may be one of your best options.
I'm very thankful to have this kind of experience with my crazy yet amazing colleagues, Jersey, Lyn and Ate Sweden; our also crazy yet remarkable manager, Keita; and of course with our ever thoughtful and incredible CEO, Mr. Yu.