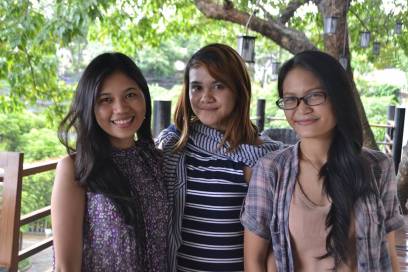 ESL Interviews WordPress Category Featured Image with Teacher Joy
Just like her name, Teacher Joy has the capability to brighten up the mood of the situation. She does this by initiating good (and enjoyable) conversations with people. But she is a person who not only has a lot to talk about but who also listens well to whomever she converses with.
In 3D Academy, she combines her people-skills with teaching vocabulary, reading, and speaking. But you may be surprised to know that she has a different name in this school. Why? Well, there was already another teacher in the academy who had the same name. It would be quite confusing and odd to call one teacher Joy 1 and the other Joy 2, wouldn't it? So, she had to adopt another name–Angel.
But her new nickname, Angel, may not go well together with the theme of one of her hobbies–watching horror movies. When asked why she likes watching them, she said that she simply enjoys the thrill that comes with it and screaming with her friends. Aside from watching horror movies, she also plays volleyball. So, if you are into any of these hobbies, these can be good topics to begin with for a good conversation in English with Teacher Angel. If two persons are talking about something they are both knowledgeable of and familiar with, the result is a healthy and hearty conversation and even many English lessons learned.
What about her dreams? As a step up in her career in teaching, she is planning on pursuing a Masters' degree in Education someday.
If you would ask her what fun things you can do in Cebu, she would recommend canyoning (or canyoneering, as it is called in the US) in Alegria, a fourth class municipality in the southern part of Cebu province. To add to that daring and adventurous attempt, she also advises going to Oslob for an interesting whale-watching activity.
And if you're into fruits, Teacher Joy suggests that you try rambutan, lanzones, and mangosteen–fruits you may not often see in Cebu as they are seasonal, but will nevertheless surely tickle your palate.
Teacher Joy invites all those interested to learn English to come to Cebu. According to her, studying English in the Philippines can not only be affordable and of high quality, but it can also "[become] more exciting and fun through dynamic and creative ways of learning…; students get to interact, practice, and use English more often in real-life settings through…outdoor activities, excursion and immersion."
So, why not come to Cebu and have a great time learning English?