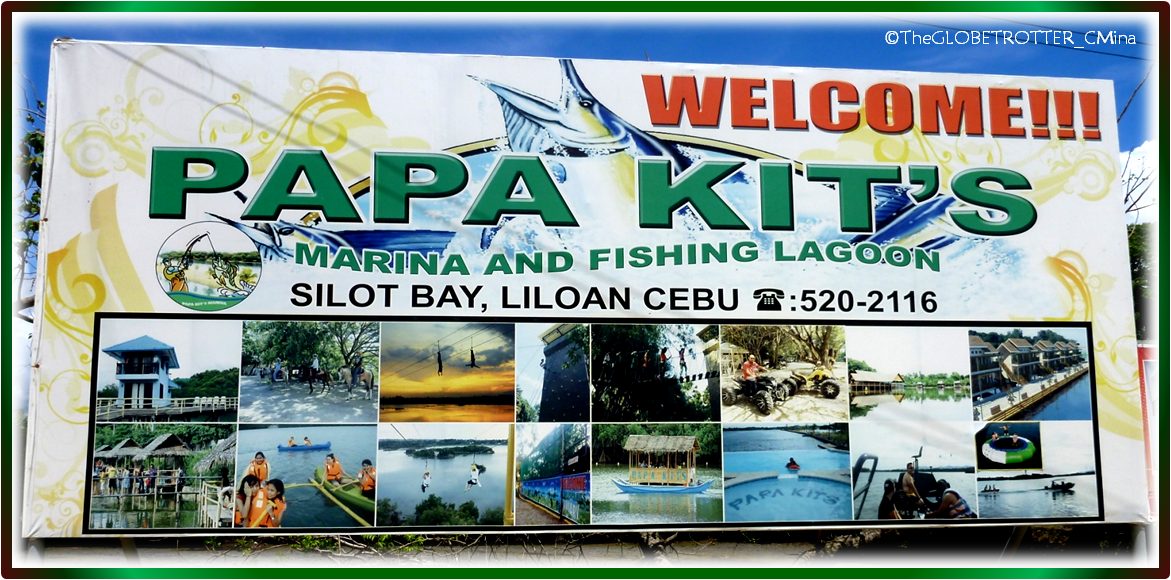 Feel Nature! Experience Fun! It's the perfect Adventure for you!
ABOUT THE RESORT
Papa Kit's Marina & Fishing Lagoon offers guests refreshing adventure to experience in an approximately 92 hectares of ocean front land. It is 21.5 Kilometers away from Cebu City and is accessible through public and private transportation.
Along the fishing cottages is a large native restaurant where dining is made extra sumptuous and fresh as possible. The Clubhouse, situated along Silot Bay, is another dining area that the resort boasts of. It is where most of the special occasions, like weddings, birthdays, family gatherings, are celebrated. The swimming pool for adults and kids is also located here.
The resort also highlights its luxurious room accommodations and Family Rooms that suits to the needs and comforts of the guests who wanted to stay away from the hustle and bustle of the city life.

TYPES OF COTTAGE IN THE RESORT
• Small
• Medium
• Large
• Floating Cottage
LET THE FUN AND ADVENTURE BEGIN!

ACTIVITIES
• Horseback Riding – Rent a horse and have the chance to ride it in a certain stretch of the property. There will be a guide who will steer the horse along with a rope as you stroll along the resort.
• Zipline – Experience flying through the resort's main attraction, the 800-meter zipline. Witness an aerial view of Silot Bay and the vast mangrove sanctuary while crossing towards Chattis Island. It is a once in a lifetime adventure under the sun!
• Wall Climbing – A 40-feet climbing wall, situated at the zipline area, designed to make you experience and feel as if you were climbing on a mountain.
• Hanging Bridge – Is part of the Jungle Obstacle and is a challenging and fun adventure!
• Jungle Obstacle – Enjoy and experience an exciting rope course adventure!

• Fishing – The resort has catch-and-cook ponds. You can rent fishing a fishing rod with the bait, clumped with flour and you'll be able to catch bangus and/or tilapia. You have the option to either have them cooked in the restaurant or take them home with you.
• Swimming – Soak and refresh at the resort's swimming pool under the heat of the sun.
• Wakeboarding – Take a spin to another extreme adventure and get to experience an exhilarating feel and head rush through this activity.
AQUA SPORTS
• Duck Pan Boat
• Canoe
• Paddle Boat
• Piti

GETTING THERE
You can get there by:
 Your Own Ride (Private Car)
From Cebu City area, head to Poblacion Lilo-an, Cebu. When you get there, you trun on the right side, just before you reach the Lilo-an Municipal Hall. If you missed it, and you've reached the Lilo-an Municipal Hall already, turn right from the crossing, to the side of the Basketball Gym, as their Gate 2 is located there.
 Ride A Jeepney (Public Transportation)
From Cebu City area, take a jeepney heading to SM City Cebu. When you reach SM City Cebu, go to the left side of the mall going to the APM Shopping Center. You should be able to find the jeepneys bound to Lilo-an Cebu.
 Ride A Taxi (Public Transportation)
Note that since this site is beyond city area, some taxis will no longer use their meters going here. It's gonna be Pakyaw and it might be pretty expensive.
 Ride A Bus (Public Transportation)
Buses can be an alternative, but you would have to go all the way to the North Bus Terminal (NBT) and wait for it to get filled with passengers to go. It takes more time.

What are you waiting for?
Freshen Up Your Spirit,
Embrace Fun and Enjoy Adventure in
Papa Kit's Marina & Fishing Lagoon!