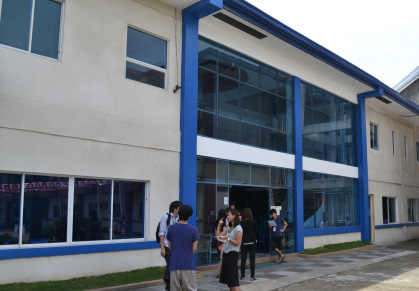 ABOUT PHILINTER
Philinter is a Korean-owned-and-managed English language school in Lapu-lapu City, which is just about 30 minutes away from Cebu City. Its name is derived from the two words, "philosophy" and "interaction." It has been operating for more than twelve years in the ESL academe, a hint on its credibility in teaching.
In this blog, we'll take a look at their facilities, starting with those inside their school building.
FIRST DIVISION
The school building has two divisions. The first division will lead you to the classrooms and offices of Philinter. Inside, you will find 140 man-to-man classrooms, grouped into color-coded sections, depending on the type of English class. For example, the rooms in the red section are used for Writing and Grammar classes. In addition, the school has 28 group classrooms, which are distributed on the same floor and on the upper floor.
Across the man-to-man classrooms is the administrative (or admin) office. And on the second floor is the accounting office, where students go to for SSP and Visa matters. Students don't have to worry about going to agencies like the immigration office because the accounting staffs will do the job. The only thing the students have to do is settle their accounts.
Further inside the building is the amphitheater. This is where the students do their oral presentations and the school hold some activities like student orientations.
Another room I visited in the school is their study room, which also serves as a library of some references for students' use.
SECOND DIVISION
The other division is accessed to reach the dining hall where the students eat their scheduled breakfast, lunch, and dinner together. The dining hall is strictly used only during mealtimes.
Outside the dining hall is the snack bar (or canteen). Students can buy food here after they hear their stomachs growling in between classes.
To a station in the same area, students hand to the attending staff their used clothes for laundry service. Female students do so every Monday and Thursday, while the male students do it every Tuesday and Friday.
In the next post, I will talk about the school dormitory.