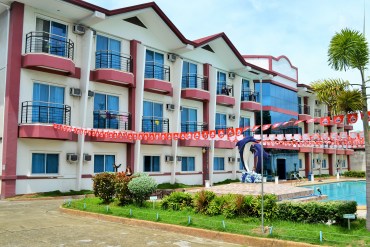 ABOUT PHILINTER
Philinter is a Korean-owned-and-managed English language school in Lapu-lapu City, which is about 30 minutes away from Cebu City. Its name is derived from two words: "philosophy" and "interaction." It has been operating for more than twelve years in the ESL academe, a hint on its credibility in teaching.
My previous post talked about the school building. Now, let's take a look at their school dormitory.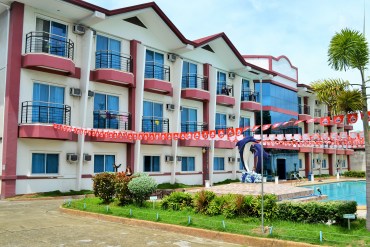 Philinter's huge dormitory
DORMITORY ROOMS
A single room would have a bed matched with a comforter and a pillow, a bedside table, a small refrigerator, a study table with a chair, a small table with shelves, a closet, and a restroom with a hot water heater. According to their website, the fridge is not commonly part of the accommodation but can be availed for 4 weeks at 1,000PHP.
For those rooms filling in the front part of the building, the balcony offers a good view of the pool and greenery of the dormitory grounds.
For the determined student, the school offers three places where he or she can do his or her self-studying: with a personal desk inside the room, on one of the benches of the dormitory grounds, or within the public study room in the school building.
DORMITORY FACILITIES & SERVICES
Installed on the ceiling of the dormitory's hallways are wifi routers for the students' free internet usage and CCTV cameras for their safety.
Philinter implements 24/7 strict security, as its first priority is the safety of the students. In addition to the CCTV cameras, security measures include strict curfews. On weekdays (except Fridays) and Sundays, students must be back before or by 10PM. On Fridays and Saturdays, the curfew is a little loose: 12AM. But, if a student intends to stay overnight somewhere outside the campus, like in a hotel, he or she must present any evidence of a reservation in that place.
To help students keep their rooms clean and tidy, the school performs housekeeping every month. Also, every two weeks, school staffs perform fogging to ward off mosquitoes, which are common in a tropical country like the Philippines.
Well, that's it. For more details on Philinter, you can schedule for a friendly consultation with Cebu-ichi, an agency of English schools in Cebu for the Japanese, or visit Philinter's website.