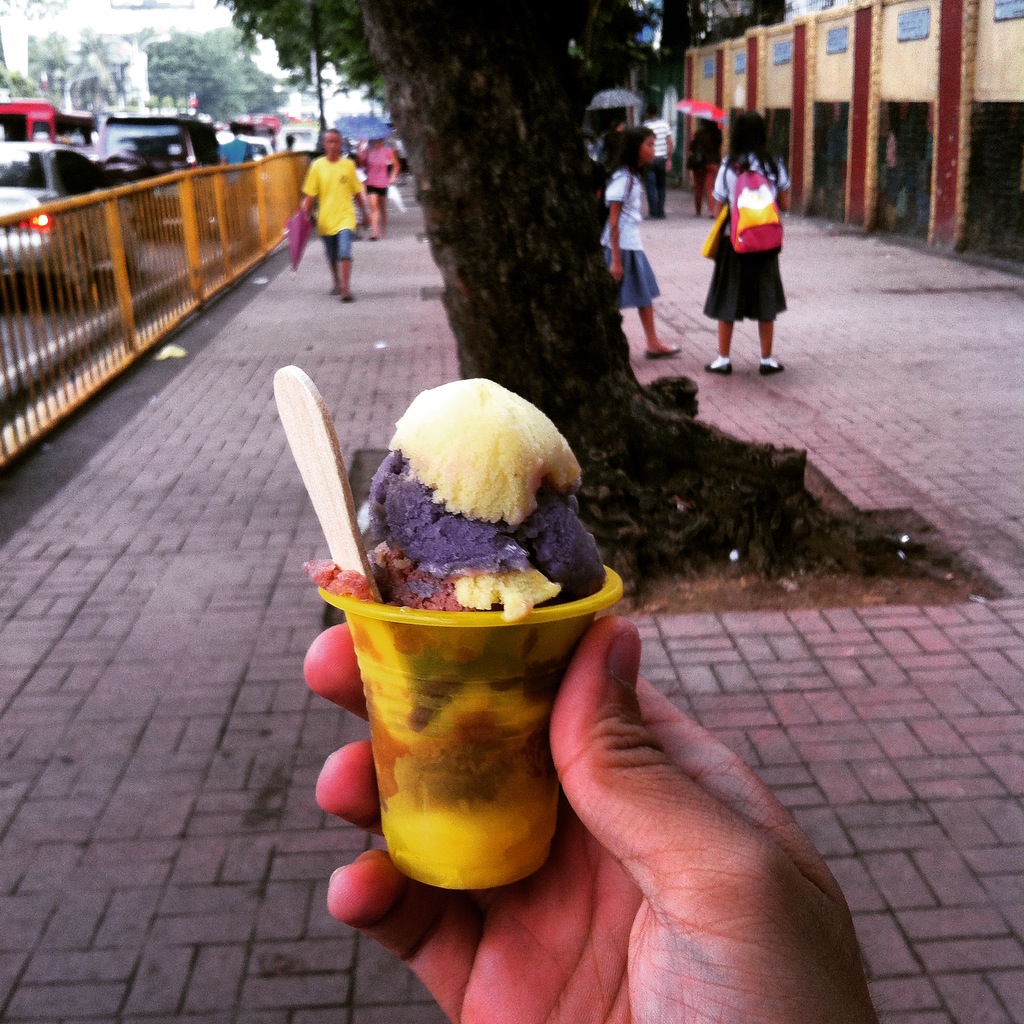 On a hot Philippine Summer's day:
Ting-a-ling-a-ling! You turn your attention to a man pushing a colorful cart.
Ting-a-ling-a-ling! It rings again.
Ting-a-ling-a-ling! You take a peek.
Ting-a-ling-a-ling! It's heaven, no, It's sorbetes!

The Favorite Dirty Ice Cream loved by Filipinos
Sorbetes, is the traditional ice cream of the Philippines. It is locally known as dirty ice cream or flavor of the road, not because it is dirty but its moniker is due to it being readily available and peddled by a sorbetero (ice cream man), in colorful carts with a small handheld bell most in the streets of local barangays and even in big cities as well.

It was first tasted by Filipinos during the 1920's, and due to the inherent innovative minds of Filipinos, many variations were added to what was then a regular ice cream. One of the first was the use of coconut milk rather than cow's milk, giving it an interesting and unique sweetness and creaminess to it. Another addition to it was the creation and adaptation of local flavors like Ube (Purple Yam), Mango, Jackfruit, Avocado, Coconut and even Halo-Halo, just to name a few.
Nowadays, you can buy a serving of sorbetes for as low as 5 Php, you can mix and pick the flavors you want as well. You can get it in sugar cones, wafer cones and even in a traditional pan de sal (Pinoy bread).
Today it still remains to be loved and enjoyed by Filipinos even with the influx of international ice cream brands because for us Filipinos, eating sorbetes evokes childhood memories as it is the ice cream that we grew up eating. Imagine how we get excited when we hear those bells ringing!
It is reflective of what the Filipino Culture is, happy, colorful and innovative.
So next time you hear a ting-a-ling-aling near you, get on your feet and enjoy another authentic eating experience.
Enjoy Sorbetes!