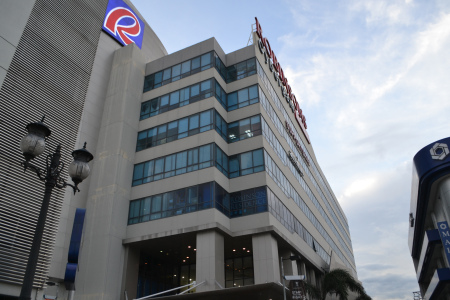 Besides Robinsons Fuente, another mall exists in Fuente Osmeña Circle, a popular rotunda in the heart of Cebu City, and this is the Robinsons Cybergate.
ABOUT ROBINSONS CYBERGATE CEBU
It is the third Robinsons Cybergate mall built and operated by Robinsons Land Corporation (RLC) in the Philippines. It is was first opened in 2009 and sits across Robinsons Fuente mall and in front of Chong Hua Hospital. However, it is not just a mall; it also houses BPO (business process outsourcing) offices and medical establishments, making it "the first wellness and lifestyle center" in Cebu. Out of the 7 floors of the building, 3 of them are occupied by BPO offices while the rest are reserved for the mall's commercial and medical establishments.
INSIDE ROBINSONS CYBERGATE CEBU
The mall has four levels: ground floor, 2nd floor, 3rd floor and 4th floor.

FOOD
Both ground floor and second floor are food destinations. Most of the major restaurants such as Mooon Cafe (Mexican cuisine), Phat Pho (Vietnamese cuisine), Golden Cowrie (a renown Filipino restaurant) and Japengo (modern Japanese cuisine) are on the ground floor. Jollibee–a favorite Filipino fastfood restaurant–occupies both ground floor and second floor. Also, there are food stalls and bakeshops/confectioneries scattered around the two floors. On the second floor, a foodcourt of various local food choices can be found.
A pharmacy, a convenience store and a healthy food shop are also inside the mall.
CLOTHING
This mall doesn't have as much clothing shops as Robinsons Fuente. However, it does have small botiques and women's accessory shops on the ground floor and second floor.
OTHER NON-FOOD RETAILERS
There are variety stores and specialty stores such as those selling cellphone and cellphone accessories, other gadgets, computers and its hardware, toys, books, etc. Most of these are located on the 2nd floor, just like in Robinsons Fuente.
SERVICES
The mall has a photo printing shop, LBC (a Philippine-based international courier company), an optical shop, Western Union (a money transfer center), ATM stations and a money currency exchange station. The salons, beauty parlors and spas are located on the third floor.
The fourth floor is the hub of several clinics: medical, dental, and psychological counseling among others. A few of them are also on the third floor. The doctors' and/or clinics' names can be found on their mall directory on the ground floor.
To locate a specific store, you can refer to their mall directory on the ground floor, or simply ask the security guard directly.
Store Hours
Mall hours are from 10:00am to 9:00pm. Since Robinsons Fuente's upper ground floors close at 8:00pm, Robinsons Cybergate Cebu can be your nearest alternative.
As I see it, Robinsons Cybergate Cebu is similar to Cebu IT Park since it caters to BPO companies and its employees with its top floors leased as offices and the lower floors for the employees' convenience. The difference is that it's all compacted into one building. Nevertheless, the Robinsons Cybergate Cebu mall is for both BPO companies' constituents and the mall-goers.