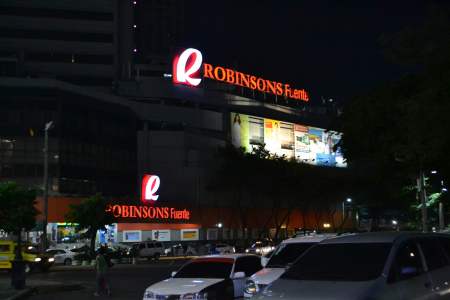 Out of the more than 30 malls currently operating in Metro Cebu, there are two situated in Fuente Osmeña Circle, a popular rotunda in the heart of Cebu City. One of them is the first to be erected in the area and this is Robinsons Fuente.
ABOUT ROBINSONS FUENTE
Formerly known as "Robinsons Place," Robinsons Fuente was opened to the public in 2000 by Robinsons Land Corporation (RLC), which is a leading real estate company in the Philippines. It is one of the 37 Robinsons malls currently being operated by RLC, aiming to improve the lives of Filipinos and make it more meaningful. In Cebu, Robinsons Fuente is coupled with Robinsons Cybergate and another one, Robinsons Galleria Cebu, is soon to rise in a few months from now.
INSIDE ROBINSONS FUENTE
The mall is not really as big as Ayala Mall and SM Mall, but it still offers a good array of goods and services in its 4 floor levels: lower ground floor, upper ground floor, 2nd floor and 3rd floor.
FOOD
If you're looking for something to eat, there are two levels you can go to: lower ground floor and upper ground floor. The lower ground floor is where the mall's supermarket (Robinsons Supermarket) and hardware store (Handyman Do-It-Best Home Center) can be found, along with restaurants, such as Sbarro (Italian cuisine) and Rai Rai Ken (Japanese cuisine), bakeshops and local food stalls in the foodcourt.
On the ground floor, you will find two more restaurants–Jollibee (a favorite Filipino fastfood restaurant) and Mang Inasal (a local restaurant famous for its roasted chicken). Also, there are two cafes: Cafe de France, with its very own internet cafe (a place where you can use PC's for a certain number of minutes or hours with a fee), and Bo's Coffee (a famous Philippine-based coffee franchise).
CLOTHING & FOOTWEAR
As for clothing shops, most of them, both of local and international brands, are found inside Robinsons Department Store on all three upper levels. But there are also separate stores selling branded apparel such as Fila, Guess, Alberto (a Philippine-based store of leather shoes and bags) and Penshoppe (a famous Philippine-based international fashion brand) and non-branded ones (but practically good, nonetheless).
OTHER NON-FOOD RETAILERS
Most of these shops will be found on the second floor; however, they are also found on the upper and lower ground floors. Stores on the second floor consist of specialty shops of cellphone, cellphone accessories, other gadgets, perfume, watch, jewelry, women's accessories, etc. Aside from those, there are small stores selling books and school and office supplies; an optical shop; and HBC, a store offering beauty and healthcare products. For a display of appliances, there's Robinsons Appliances.
On the upper ground floor, there are a few variety stores and a souvenir shop.
SERVICES
On its three upper floors, there are centers offering different services: beauty parlors, hair salon (David's Salon), travel agencies, photographic studio, The Sun Shop (a network service provider in the Philippines), Robinsons Bank, Cebu Pacific airline ticketing office, LBC (a Philippine-based international courier company), money currency exchange station and ATM stations.
To locate a specific store, you can refer to their directory on the upper ground floor, or simply ask the security guard directly.
at the upper ground floor
STORE HOURS
Upper ground floors: 10:00am to 8:00am
Lower ground floor: 8:00am to 9:00am
SUMMIT CIRCLE HOTEL
Robinsons Fuente mall is also literally connected to this hotel, formerly known as "Cebu Midtown Hotel." Besides being located at the heart of Cebu City, many people like to book in this hotel because of its proximity to Robinsons Fuente mall. The hotel has a direct access to the upper ground floor of the mall.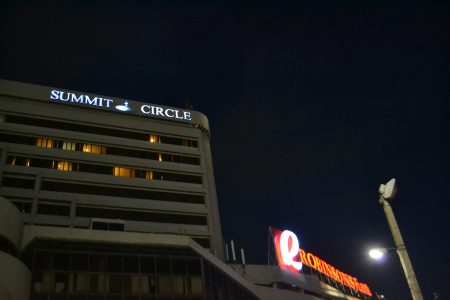 Though it may not relatively be a big mall, Robinsons Fuente is a good destination to buy your basic (or not-so-basic) necessities and to relieve yourself of hunger pangs with a satisfyingly good ambiance right at the heart of the city.