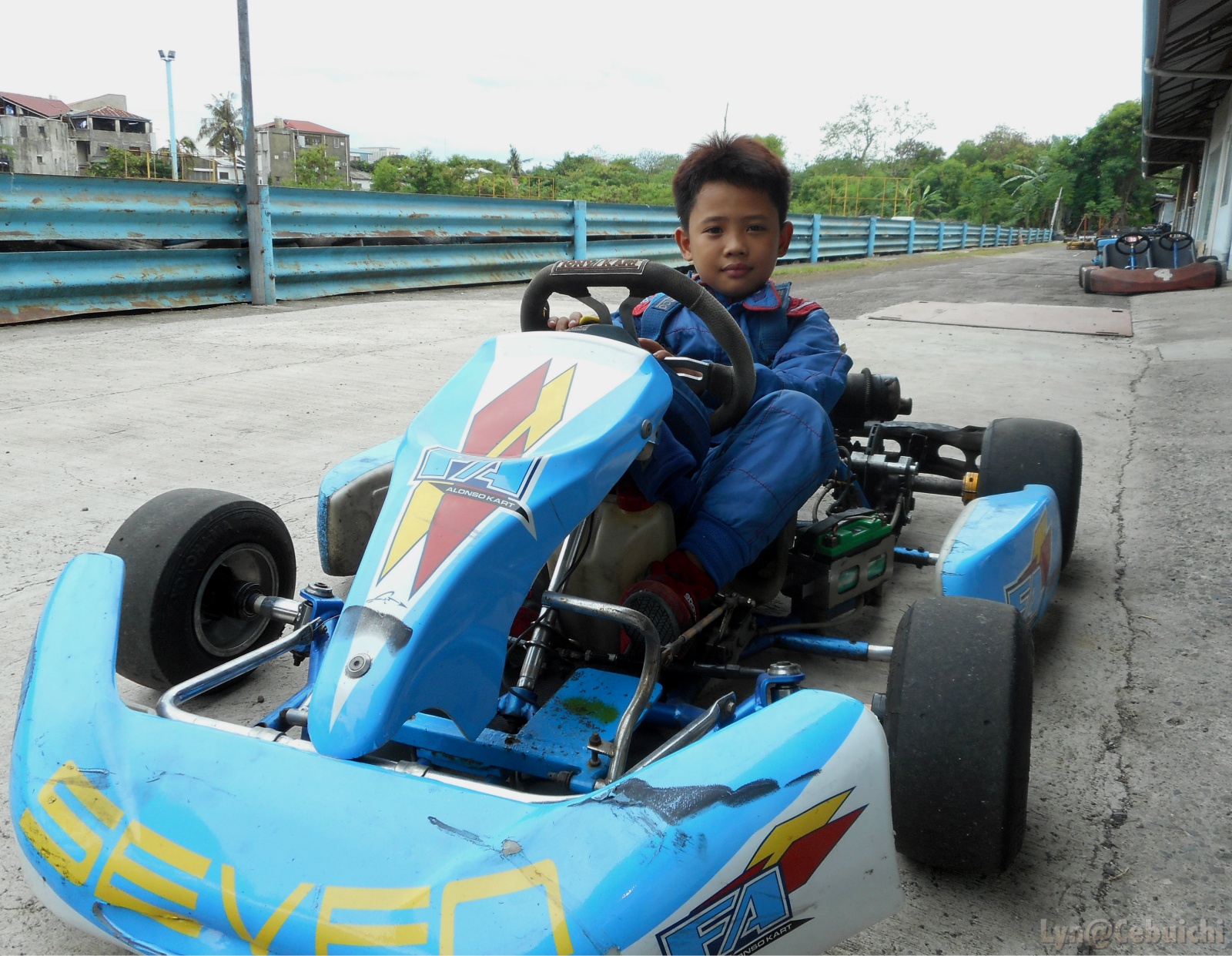 Seven, seven and seven!
Some people believe that the number "seven" is lucky. Explanation? A lot of things constitute to number seven. For example, there are seven days in a week, seven seas and continents, seven colors of the rainbow and seven ages of man as described by Shakespeare. And even the famous cartoon character Snow White had seven dwarfs.

But today, I'm NOT going to talk about luck! I'm going to talk about the boy named Seven.
A few weeks ago, I posted an article about karting and its perks. Now, my next post is about a kid named Seven, who's into karting. Let's explore!
Profile
Craig "Seven" J. Aleman, famously known as Seven, got his nickname and name because of his birthday. Born on July 07, 2007, having a name as Seven would be very appropriate for this occasion. So when we met Seven last June, he was still seven years old.

Currently enrolled in Abraham's Children Montessori, Seven juggles his time and energy between his fascination for racing and school. His father, Rei Aleman, keeps Seven on track not only in the circuit but also in school. The young kart racer has been doing kart racing for two years now. Starting at the budding age of five, karting has always been Seven's passion.
His karting experience and career
According to Mr. Rei Aleman, Seven was the first to be interested in this sport. Seven had wanted to learn how to operate the gears but he had no coach. To make the situation easier, Mr. Aleman trained to be a racer to help his son.

In a short amount of time, Seven was racing down the circuit in full speed and agility. His dad added that Seven taught himself how to maneuver the tracks with the right speed and force of a racer. Apparently, Seven is a natural in this sport! He's born to be a champ.
Last year, he was hailed the Honda cadet category champion in the first leg of 2014 National Karting Series. He was also named the youngest national champion and youngest national mini-rok competitor. That competition was Seven's first national race. And in addition, he's the Cebu Sports Writers' Awardee for Motor Sports last year. But for Seven, it isn't that easy. He admits that turning in curves can be the hardest job for any racer. But he knows he can handle it well.
Future plans
Seven's trains in Cebu Kartzone every Friday and Saturday. He goes through 20 laps and finishes around 30 minutes. For this year, Seven will be racing in Manila and in Europe. On August 25, Seven and his team will join other racers in Manila for another competition. He will also participate in an international competition sometime this year. Next year, Seven will join the Asian Karting.

When asked why he likes karting, the young boy answered this: "Trophy akong makuha." (The trophy is what I'll receive). Sometimes, trophies are too cool to resist.