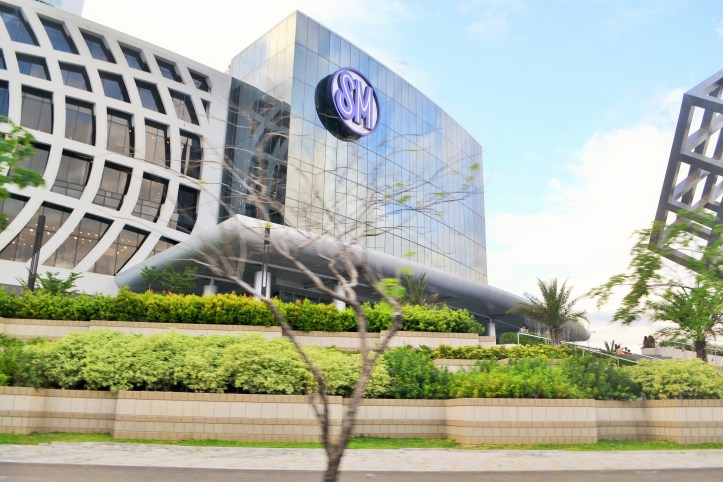 It's big and cool. Those are the simplest words to describe it. But it's more than just a shopping mall. It is set to revolutionize urban living in Cebu.
SM SEASIDE CITY: THE THIRD LARGEST MALL!
Opened recently on November 27, 2015, SM Seaside City emerged as the biggest mall in Cebu and the third largest in the Philippines, with a total gross floor area of 430,000 square meters. Such space can accommodate more than 400 tenants and 5,000 parking lots, and features its major attractions: eight movie houses, Olympic-sized skating rink and the soon-to-be-completed, Seaside Tower and Sky Park.
It's located on the South Road Properties (SRP) of Cebu, a set of prime properties on reclaimed land along the east coast of Cebu City.
SEASIDE'S ELEGANT AND UNIQUE INTERIOR
Aside from being humongous, the mall is also distinguished by its unusual design. Well, as I see it, it's somehow nature-like. The numerous lights on finely curved ceilings of every floor are arranged like peas, contained on etched structures resembling pods. Long staircases seem to form branches at every floor, and twirling staircases are like colored giant tendrils. Complementing to the exquisiteness of the design are the refined walls and wide glass doors and elevators.
SKY PARK: YOU, BETWEEN THE SKY AND THE PARK
Amidst the hustle and bustle of the city, the Sky Park can be a refreshing escape. Being elevated, sightseeing is not limited to the beautiful park within but is extended beyond its walls. On one side, you'll get a view of the sea, and on the other, the panoramic view of the land of Cebu City.
As it's still unfinished, only a certain portion of the park was opened. But it will soon have dining outlets, in addition to children's playgrounds and certain water features.
ICE-SKATING RINK: ICE-SKATE IN TROPICAL CEBU
The mall's skating rink is the only one existing in Cebu. But it has been preceded by numerous others in Metro Manila. For the first-timers in the city, the 380PHP unlimited use of the rink would be worth the experience.
A SPLENDID SIGHT IN THE FUTURE
The previously mentioned Seaside Tower and eight movie houses are still under construction. But that's not all. The mall is just one of the projected developments in the 30-hectare SM Seaside Complex. Rising in the near future are high-end residences, offices, an arena, a five-star hotel, and convention centers. Picture that!
COME & SEE IT!
Well, that's just a peek. It would be better if you check it out yourself, especially when it's all completed. It might just be a great treat to yourself or together with friends! Just prepare those pockets, though.
References:
1. "SM Seaside City Cebu: SM Unveils New Regional Landmark In Cebu City"
2. "IN PHOTOS: Touring the new SM Seaside City Cebu, PH 3rd biggest mall"