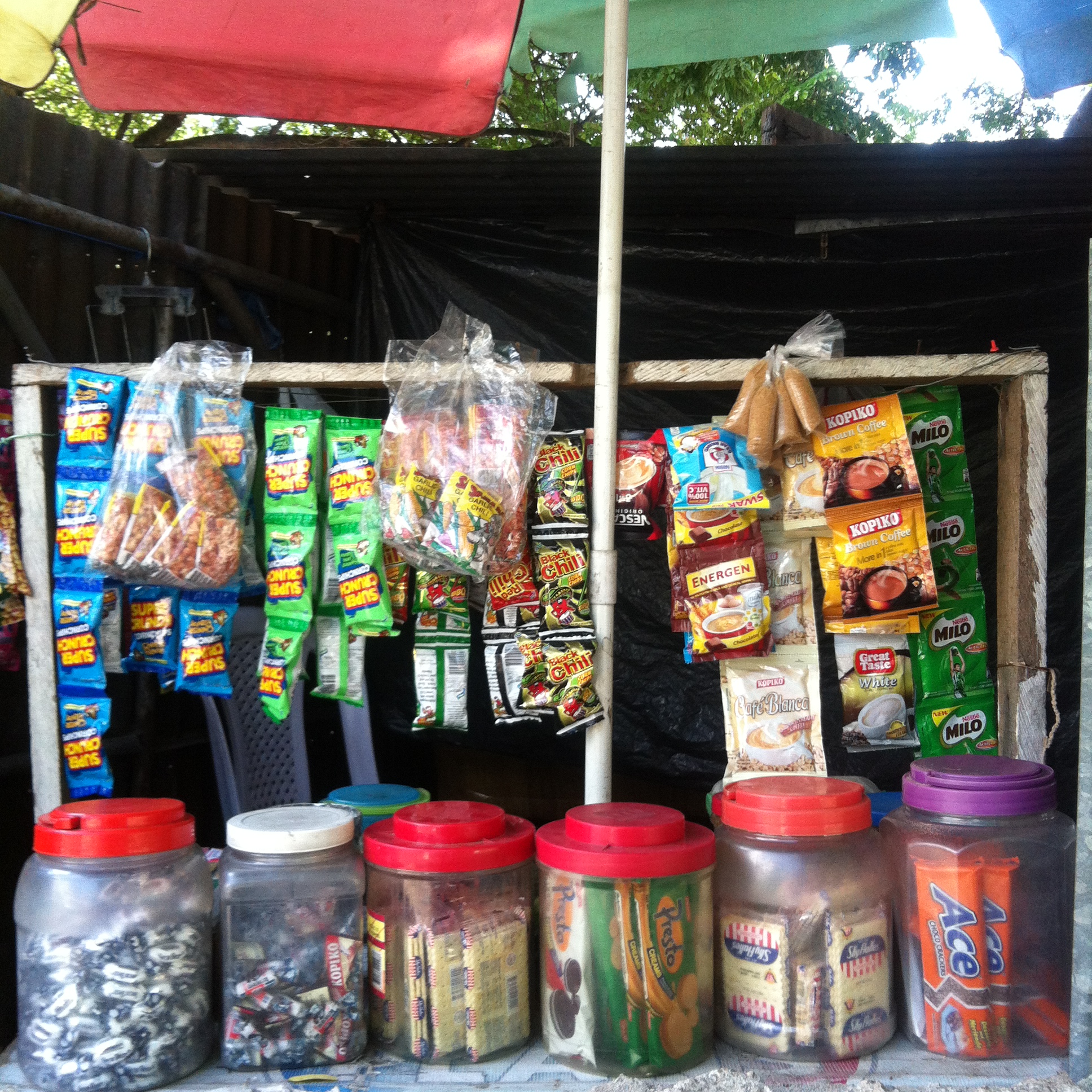 Before 7-eleven and Ministop sprung up like mushrooms in Cebu, the city has already established the convenience store that holds economical, and more importantly, social values to the Cebuanos.
Small but Convenient : The Sari-sari Store
These small, one-stop shops are called sari-sari stores. Conveniently located at almost every street in residential areas, they truly live by their name, sari-sari, which means diverse in Tagalog. This diversity can be seen in the goods sold in these stores: from canned goods, to candies, to school supplies, to cleaning supplies, to liquor.
(With their population in both urban and rural communities, here's a challenge: spot and count as many sari-sari stores as you can!)

These shops are easy to spot because they are usually part of the owner's house, and merchandise are seen through a screen or a metal barred window. On the center of this is another small window wherein goods and payment are exchanged. In front of these stores are usually are wooden benches and tables, usually used by people in the neighborhood to relax.
Sari-sari stores serve as a venue for community people to drink, talk about current events, or hang out while eating snacks. Such social value held by the sari-sari stores reflect the Filipino quality of having a good and hearty laugh despite the demands of the day, and this can be done with friends in those benches and tables.
Since sari-sari stores sell commodities in retail, locals like to visit them for a quick missing household need fix, especially because of their locations. Another reason is that these stores offer a very reasonable price for their goods, influencing the customers to come back again.
Sari-sari stores hold the regard of the common Filipino citizen as the quick go-to place to buy the missing ingredient of the adobo, or the alcoholic drinks for an impromptu family gathering. This is how sari-sari stores have survived through the years–even before the existence of mainstream convenience stores, to their introduction, and for sure, in the future.
So next time you need something, a pinch of salt to even firewood, you know where to go!
Experience the raw beauty of the Philippine Culture , and go to the next sari-sari store you see!