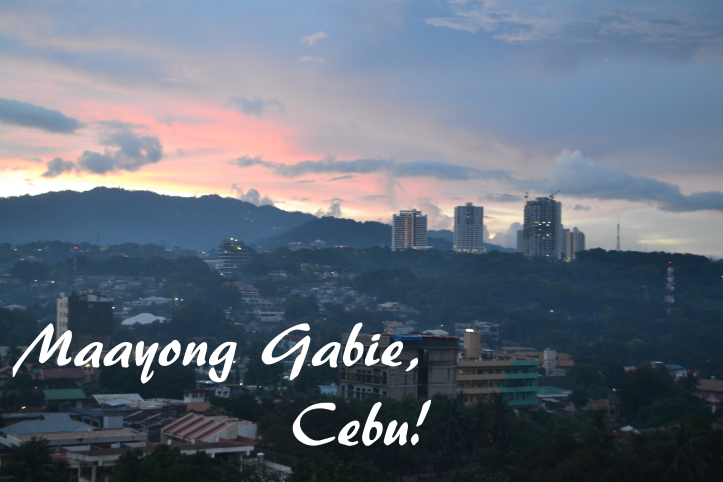 Good Morning! Good Noon! Good Afternoon! Good Evening! Well, at whatever time of the day you read this, I greet you a pleasant day. But how do you say so in Cebuano?
This is a sequel to my post on Basic Cebuano Words. This time, I'll tell you about four basic Cebuano greetings. It wouldn't hurt your studies in English. In fact, it can be a good way to connect to friendly Cebuanos during your visit or your study period in Cebu. (Just don't use it during your English class, though.) So, let's get started!
Behold, the four Cebuano greetings:
Maayong buntag! = Good morning!
Maayong hapon! = Good afternoon!
Maayong udto! = Good noon!
Maayong gabii (or "gabie")! = Good evening!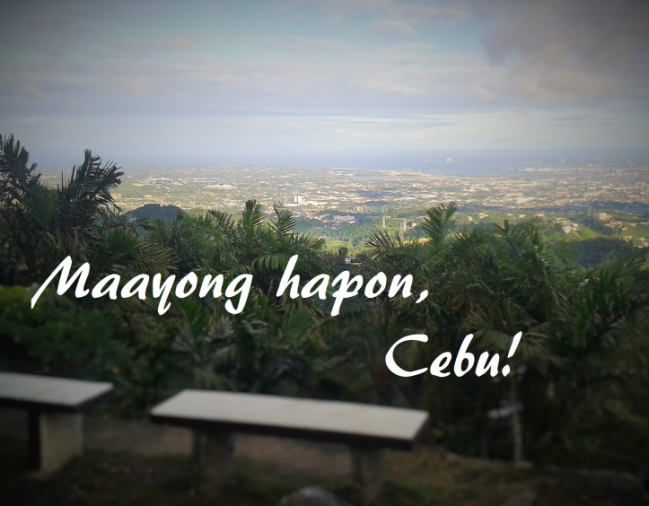 Maayong hapon! Here's an afternoon view of the city at Mountain View Nature's Park.
KNOW WHAT THE WORDS MEAN.
Maayong
Well, you might have figured out that "maayong" is the Cebuano for "good." Yes, that's partly true. Actually, only "maayo" means good. "-Ng" is a suffix assigned to the word to make the greeting more compact and thus easier to say. The longer way would go like this: "Maayo nga buntag!" which has more syllables.
Buntag, Udto, Hapon, Gabii
Obviously,
Buntag = Morning
Hapon = Afternoon
Udto = Noon
Gabii = Evening
Well, I think you got that.
SAY IT RIGHT LIKE CEBUANOS (OR AT LEAST CLOSE TO IT).
"Maayong" is pronounced with the rise in intonation at the middle "-a-": Ma-a-yong.
For all the other words, you raise your pitch at the first syllable, except in "gabie," whose "-bi-" you have to raise instead.
Bun-tag
Ha-pon
Ud-to
Ga-bi-i
Trivia: "Hapon" can also mean "Japanese," but it differs in pronunciation. Instead of the first syllable, the pitch is raised at the second: Ha-pon.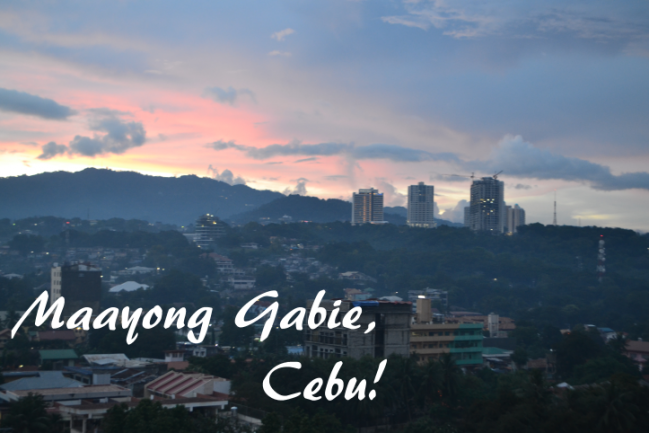 The sun has hidden. The night is approaching. Maayong gabie!
JUST TRY IT OUT, EVEN JUST ONCE.
It's always interesting to know about other people's culture. And it's also nice to know that someone is interested in yours. Using a bit of Cebuano language won't only be for fun, but it'll be a good way to warm up with Cebuanos you meet along the way. In fact, Cebuanos would be delighted to hear you speak it. (Well, I will!)
So, why not try and bring out that friendly smile?
It can be considered an opportunity. ^_-